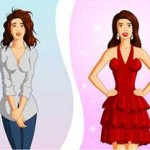 Many studies have been done on the importance of first impressions.  A person might effect others in a negative way just by how they look.  This is called first impression psychology. Politicians rely on this information for successful campaigns.  Of course you want to be unique and have your own style and expression, but if you choose a style that effects others in a negative way you close a few doors that might have been open for opportunity. Knowing how to make a great first impression starts by understanding style traps. Once you know what can create a poor reaction you can make the right choices and be prepared.
If you choose to ignore the advice and do not receive the positive response from others you expected at least you know why and how you can change it.  Watch for image traps that can quickly create a bad impression, put up walls and give others a reason to judge you in a negative light. A dramatic or strong impressionable look can effect your success in a negative or positive way.  Here are a few basic style traps known to produce a less than positive result.
Style Traps
Give yourself a chance and watch for these possible traps:
Tattoos and body piercing are a personal expression. They make a dramatic statement which makes them traps. Making a permanent change to your body is not advised but if you must, be careful to only get them in places where they can be covered easily if needed.  Tattoos can convey the wrong message to some individuals even if it's a little ladybug design. If you have one that shows easily just as a precaution be sure to cover your tattoo up at first important meetings, auditions and interviews. For performers, tattoos can become a concern as they may not reflect well on the part you're auditioning for.  The same goes for lot's of ear piercings and plugs.
Jewelry and bling can create a positive first impression or become a distraction and take away from you. Too much jewelry can be busy so as a rule it's best to choose two (earrings/bracelet, necklace/pin) in the same metal or color. When in doubt take a piece away. Wear jewelry for the right occasion. Sparkly for evening, chunky for street and professionally keep jewelry simple and subtle.  Men should wear one piece if any.
Looking sloppy conveys laziness.  Being well kept and put together is very important. Self respect is highlighted by self care. Watch for scuffed, worn heels or unpolished shoes. Repair clothes with falling hems and rips.  Make sure everything you wear is clean, unstained, crisp and ironed.
Awkward clothing is something too tight or doesn't fit you well. For women beware skirts or dresses that are too short, revealing tops or pants that sit low on your hips. Shoes with very high heels are a risky choice especially if you have trouble walking in them.
Wear what flatters your figure to prevent embarrassing photos later. Keep your lines long. To look taller and thinner be sure to match pants to shoes, skirts/tights to shoe colors.  Don't be afraid of control undergarments that tone and shape your figure helping you look better in your clothing. Dressing for your body type can make a difference.